Heavy Practice Bag
An Excellent Hitting Aid for Developing Rotational Swing Mechanics that Increase Power and Bat Speed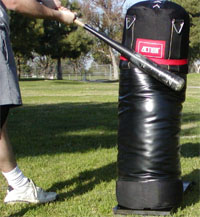 Out of Stock



Practicing with a heavy bag can help a batter end lunging problems and aids in training a batter to develop early bat speed for more power to the opposite field. If you are not familiar in practicing with a heavy bag, be sure to check out the article provided in the "More Information" link below.

Details:
40 inches tall, 12 inch diameter.

Brackets to hang from the ceiling or simply strap to an object (straps not included).

Not Filled
The bag is shipped unfilled in a box, but it can easily be filled with clothes, towels, sawdust, etc. The bag pictured above was filled with 2 bags of ground bark (2 cubic feet bags at $2.75 each). Weighs approximately 65 pounds depending on the type of materials the bag is filled with.