Rotational Hitting Instructional DVD - The Final Arc II

Want to Hit a Ball Harder and Farther? Try the Final Arc II 5 Step Program
Instruction and Drills that Train Baseball and Softball Batters
How to Develop a More Powerful Rotational Swing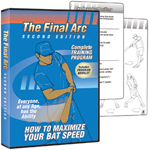 Read the Testimonials


Price: $29.95 (Free Shipping!)

**Includes Training Program Booklet for handy reference when you're on the practice field






"The Final Arc 2" (Second Edition) Instructional DVD demonstrates the key positions and hitting techniques to help you develop a "High Level" swing:
Developing proper Launch and Contact position
Developing rotation around a stationary axis, easily and naturally
Developing a circular hand path for the most efficient swing
Adding top and bottom hand torque for extra speed and power
Improved swing for inside/outside pitches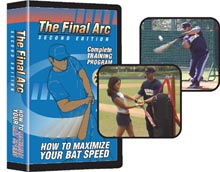 Click Here to Preview The Final Arc 2


Jack Mankin, the host and author of this Training Program, is a batting mechanics coach who has spent decades studying and teaching the batting styles of baseball's all-time greatest hitters. The rotational batting principles that Coach Mankin teaches in this video are backed by scientific research and proven results from batters nationwide.


John Elliott, the trainer featured in the video, is a batting coach of many years, teaching everyone from kindergarten to college to the pros. His five seasons with the Houston Astros Organization gives a professional hitter's perspective on this revolutionary approach to the bat swing.

Take advantage of our new package deals for great savings!
| | | |
| --- | --- | --- |
| | - | |