| | | | | |
| --- | --- | --- | --- | --- |
| | | Glove Radar | | |
Endorsed by Ken Griffey Jr. -- All-Century Outfielder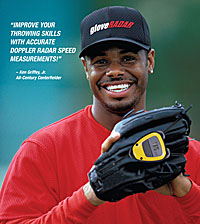 Price: $84.95 (Free Shipping!)

The Glove Radar; is a small microwave Doppler radar velocity sensor which is attached to a baseball or softball glove to accurately measure the speed of the ball just before it is caught. The LCD screen will accurately display the ball speed whether it is worn by a catcher, infielder, outfielder or just playing catch in the backyard. It is easily attached to, and removed from virtually any ball glove. Clever design results in a small, versatile, low-cost device affordable for youth and senior level teams and individual players.

WHAT IS THE PURPOSE OF THE GLOVE RADAR?
It will assist in developing baseball and softball players' throwing capabilities by providing a measure of velocity improvement which results from using proper throwing techniques. This miniature device is worn on the glove of the receiver of the ball during practice, training, tossing and warm-up sessions. It not only is a great training tool but everyone has fun using it.
HOW DOES THE GLOVE RADAR WORK?
The Glove Radar is truly a microwave Doppler radar, not an impact sensor; nor is it a timer which depends upon a precise throwing distance for accuracy. Attached to the back of a ball glove, it measures the speed of the approaching ball a few feet before it is caught. It "sees" through the ball glove as it reads the speed of the ball.
HOW ACCURATE IS THE GLOVE RADAR?
The Glove Radar typically measures ball speed within plus or minus one mile per hour of popular "radar speed guns" adjacently located and measuring velocity over a comparable flight path. The most important consideration in using any velocity sensor is to be consistent in its use so that comparative measurements can be made.
HOW DOES THE GLOVE RADAR ACTUALLY HELP YOUNGSTERS LEARN HOW TO THROW?
Teaching the proper throwing techniques can be a real challenge with youngsters, but when they see the increase in speed which can be achieved by throwing "the right way," they are very anxious to apply the coaches instructions. All players want to know how fast they throw, and how to increase their speed!! However, increased speed is not the only result of learning proper throwing techniques--consistency, improved accuracy and less arm strain can also be achieved.
DURABILITY
The Glove Radar is packaged in a rugged plastic housing assembly, sealed to protect the internal electronics from dust, dirt and moisture which can be encountered during normal use. The unit is not hermetically sealed and is not intended to be immersed in water. Two screws hold the cover in place, which can be removed to replace the internal battery. A strong, weather-resistant nylon cord, facilitates attachment to virtually any ball glove. A rubber pad, molded onto the housing surface adjacent to the glove, absorbs impact "shock" forces from the ball being caught.
SPECIFICATIONS

| | |
| --- | --- |
| Size | Triangular shape, 2 1/2" Wide; 3 1/2" Long; 1 3/16" Thick |
| Weight | 3 oz. |
| Display Type | 2 1/2 Segment LCD |
| Speed Range | 20-120 MPH |
| Accuracy | Within 1 MPH of typical sports radar speed guns located at comparable receiving positions |
| Battery | 3 Volt, 160 mAh, Lithium CR-1/3N, DL-1/3N, 2L76BP |
| Battery Life | Over 30 hours of continuous use; over 5000 transmission cycles (5000 speed measurements) |